Weddings in Akumal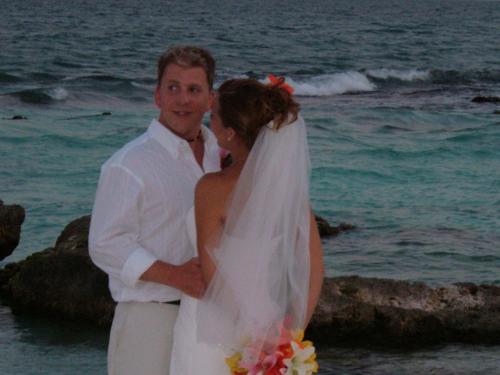 Akumal is an ideal location for small to medium size weddings! Although there are many beautiful spots for the ceremony, we recommend one that is truly special!

In front of Cannon House, there is a wide area facing the bay and the open ocean with very impressive looking cannon facing the bay. The sunset can be seen from there and is breathtaking. This is an ideal spot for a late afternoon ceremony.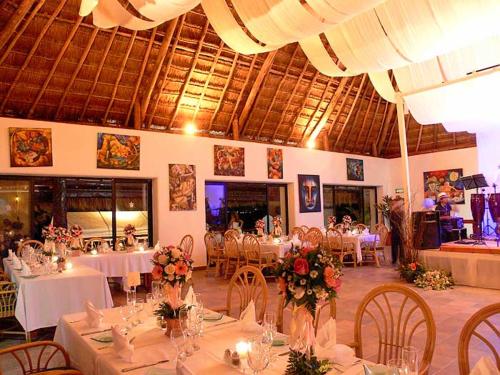 It is a short walk to Lolha restaurant, where the reception takes place. We suggest having a Mariachi band start playing after the ceremony and continue to play while everyone walks over to Lolha. During the ceremony there are various options for music.Once here, we can host a cocktail party with a choice of appetizers for approximately one hour, before sitting down to dinner. This is set up in front of the dining room, under a white tent, with tiki torches set all around the perimeter for added privacy and for a romantic setting.
The menu we work with is the same menu we have for dinner and we can also offer some items from our snack bar menu. We suggest that you request our menu, come up with a choice of soup or salad to start off with, and 3-4 main courses that appeal to you. Then we can give you a quote. Buffet style is most appropriate for groups that are larger than 50. We can serve up to 150 people and are perfectly happy with serving small dinner receptions too!
If you will have 40 guests or more, the entire restaurant can be closed off for your party as long as it is not on a holiday or special event. There is a rental fee involved. The restaurant is ideal if you plan to have live music, or a DJ for dancing.
If your party will be for less than 40 guests, we offer the private veranda deck seating for the dinner. On the veranda there is no room for dancing, but we rent out the North Palapa of the Snack bar for special parties also and you can have the dancing there after dinner at the restaurant.
All details pertaining to the food service are handled directly by me, and all other details including the ceremony, flowers, table settings and music is handled by the wedding coordinator.
We work with an excellent coordinator. If you are interested, let us know and we will put you in direct contact with her.
We also offer special room rates for the wedding party and guests. We give one complimentary room for every 10 rooms booked with us. Our discounts will depend on the number of guests booking through us directly and depends on the time of year.
Please visit our website to get an idea of our regular rack rates, our property, and also, don't forget to visit our wedding comments and photo gallery! We feature a section of past weddings. A great way to get in the mood for making Akumal your wedding location!
For more information weddings@hotelakumalcaribe.com