Order the Cross of Mantancero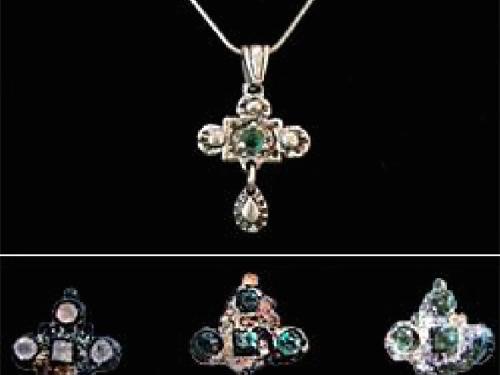 In the Archive of the Indies, The correct name for El Matancero is "Nuestra Señora de los Milagros" (Our Lady of the Miracles)." The title El Matancero is a nickname and the one by which it is known, since it was constructed in the shipyards of Matanzas (Cuba). It left Cadiz on November 30, 1741, with 270 tons of useful cargo. It was wrecked on February 22, 1742.

Francisco Sanchez Marques of Casa Madrid, owner of Nuestra Señora de los Milagros (El Matancero) obtained permission to make a voyage under his own command to Veracruz. The major part of the ship appears to be burned and destroyed, which leads to the conclusion that some enemy discharge touched off the powder room, provoking a disastrous explosion and the consequent sinking of the ship. It drifted near Akumal, precisely in the place called Punta Matanceros, because it was the custom in these times to give a place the name of the first boat which, for any reason, was wrecked in its vicinity.
This cross is a replica of one of the various types of crosses that was found by CEDAM , a group of divers, who through their devotion to their sport and their participation in it, they rendered a valuable service to Mexico by collaborating with the respective authorities in historical and archaeological expeditions underwater.
Beginning as a wax form, the cross was sculpted by Richard Mazzola and using the lost wax process, a mold was created. It was then poured with 9.25 Taxco silver by silversmith, Miguel Ruiz Aviles of Taxco, Mexico. An original artifact, a faceted green glass bead from the shipwreck, is set in the center of the 50th anniversary cross. The dimensions of the cross are 1 1/2" in length including the baile and 1" wide.
It is a limited edition cross. One of only 150 made.
Artist: Richard Mazzola
Silver craftsman: Miguel Ruiz Aviles
Order the Cross of the Matancero