The All-Inclusive Jungle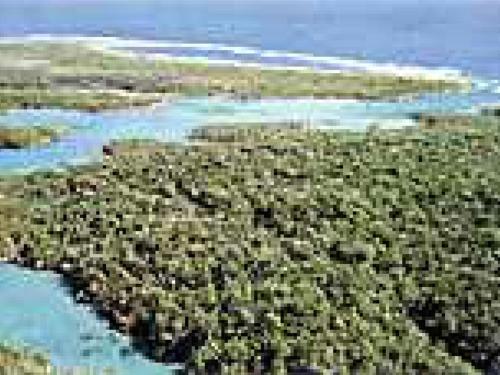 Imagine going down a brand new four lane highway with jungle on either side, the occasional ranch or roadside market place, and suddenly being faced with billboards that advertise eco-resorts, recreational parks, all natural lagoons, clear cenotes, and pristine beaches!
If this sounds like a contradiction to you, you're absolutely right, but it does exist on the Riviera Maya. (A contradictory term in itself).
This article is not about criticizing the area, but it is an honest, and very personal point of view.
Our family owns a very small property with only 60 rooms, spread over a fairly decent size piece of land, which has been in the family for over 40 years. We were considered the largest hotel in the area until the coastline was pinpointed for Mexico's newest tourism destination, and renamed the Riviera Maya. I was not comfortable in that knowledge at the time, since we have always considered ourselves to be a small, family run operation. Now that we are in the midst of hotels that are over 500 rooms, I feel very comfortable knowing that we are small, and that no one can contradict us!
Our repeat clientele has been very helpful to us by stressing the importance of not changing our property, or growing too much. It is very satisfying when someone that has been coming here for over 10 years, makes a point in telling us how happy they are that they can still come back and feel just about the same as when they first started coming here. They say it has the same charm, but perhaps with more comforts and improvements. Since a large portion of our guests are repeat clients, we like to please them, and have not wanted to make more rooms, or make any drastic changes, although the smart thing would be to increase the number of rooms and get rid of the old fashioned style bungalows that are spread out amidst the gardens, and do not make efficient use of the land.
The all inclusive properties are packaged so attractively that many people are choosing these resorts as their destination of choice because they get airfare, transfers, food, all you can drink, activities, and more, all included in the price of the hotel package! It is very hard to keep up our quality and service, and still keep our profit margins healthy! We are not a chain that has buying power, we do not have worldwide support for marketing, and reservations, and we cannot block space on a charter airplane and get you a great fare!
What we can get you though, is a vacation that will not be in any travel wholesaler's catalog, but will remain on your list of unique travel destinations, and not on your list of canned fun places!
Akumal, and Hotel Villas Maya is not for everyone, but I sincerely believe that the All Inclusive Resorts do not appeal to everyone either. Our regular guests are proof of that. We do not want to lose them, and fear that the area is changing so much that many will start to go further south in order to avoid the congestion that is all around us. This is our dilemma, and we must get the word out that our property will still be as it has been, and one can still enjoy the rustic comfortable charm and feeling of Akumal when you stay with us.
There are many other small properties in the area also, trying to do the same thing as us, survive, and go after the market that would not enjoy a large all inclusive property. This market can only fill up so many rooms, and as a result, our low season can get pretty low!
When we have low occupancy, we start to wonder if our clients are going somewhere else, or that they are booking into a resort complex where they can eat drink and be merry for one price! Could this be possible????
Anyone that has been to our property more than a handful of times should write a story about why they enjoy our place, and why they keep coming back. That is the best compliment we could receive, to be able to post it on our web site, and have our own guests tell their story to other people that have not visited us, and help our property remain a popular destination, amidst the all inclusive jungle.
Laura Bush Wolfe