Directions & Maps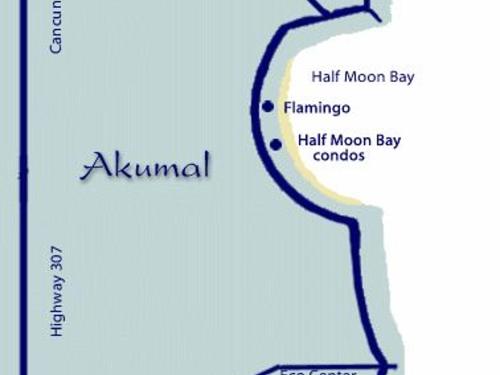 Getting to Akumal is getting easier every year! Now there are choices right at the airport arrivals terminal
Take a taxi - Reliable and you get it all to yourself (about $120 USD one way)
Take a shuttle van – It stops at various places but costs about $35 USD per person
By car ( precooking is necessary with any of the major car rental agencies ) - If driving to Akumal, turn right at the intersection leaving the airport. ( South)
Book a private transfer. ( insert Link to Nayeli's Tour Desk and Arturo's email for Dive Center )
From the airport, you can take a bus to Playa del Carmen and from there another bus or a minivan that will drop you off at the overpass to Akumal. Just let the driver know to stop in Akumal.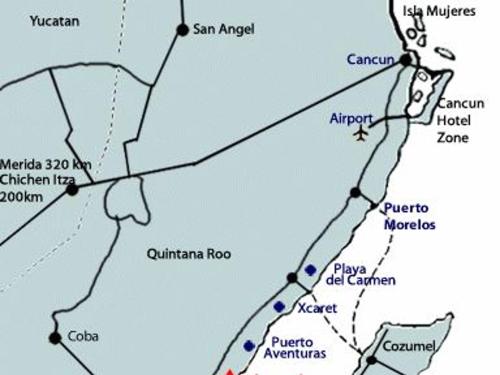 From the airport:
Turn right at the fork indicating road to Tulum. (Heading south)
Pass Puerto Morelos, Playa del Carmen, Puerto Aventuras.
After Puerto Aventuras (you will be going over an overpass), continue driving for 15 KMs (10 miles) till the next pedestrian overpass and the bridge. Pass UNDER the bridge and make a U TURN at the first sign that says RETORNO (about 150 meters / 170 yards)
After making a u-turn, you are now heading back towards Cancun. Just as you get to the bridge make a right.
Go straight until you see the white archway. The front office of Hotel Akumal Caribe is right under the archway on the right.
Parking for check-in is available to your right just before passing under the arches.
If you would like to be picked up at the airport, we recommend you email dive@akumaldivecenter.com. They are located on the hotel property. They have a suburban that offers transportation services besides operating the dive shop on our property. We also have a tour desk at the Front Office, for all types of tour and transportation services. info@selvamaya.com