The Riviera Maya, also know at the Mayan Riviera, is located on the Caribbean coastline of the Yucatan peninsula of Mexico. It stretches from Cancun, south past Tulum, to the Sian Ka'an Biosphere. The largest city is Playa del Carmen, once known as a quiet fishing village, it is now one of the fastest growing metropolises in the world. Playa del Carmen is unique in that it has held on to its culture and special qualities such as the beach bars that line the shore and its pedestrian 5th Avenue full of local shops and restaurants. The growth has brought all the creature comforts and conveniences to the area from a Sam's Club to movie theatres.
Heading south of Playa del Carmen is Puerto Aventuras, a boater's community with a very American feel. This marina was literally blasted and formed out of the limestone coastline. Here you can enjoy dining, shopping and golfing.
Travel south on Highway 307 about X miles/ kilometers and you arrive at the first of several sections of the Akumal community. On the right hand side is Akumal Pueblo; to the left are Central Akumal and North Akumal. Jade Bay and South Akumal are the next two exits continuing south on 307.
The Mayan Riviera basically ends, as far as hotels and homes, in Tulum. The Sian Ka'anBiosphere is one of the largest protected pieces of land anywhere.
In addition to some fabulous towns the Riviera Maya has gorgeous beaches and wide array of activities including eco-parks such as Xcaret, Xel-Ha, Hidden Worlds and Aktun Chen.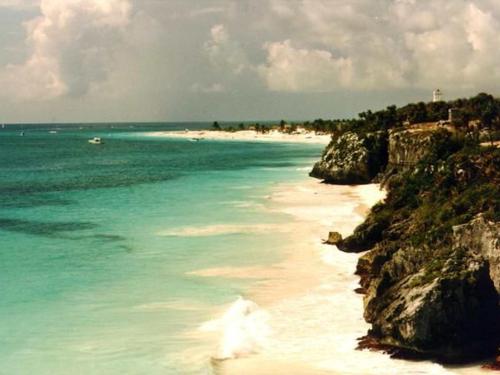 The Mesoamerican Reef is the second longest in the world and it is located just off the coast. The unique limestone terrain just underground forms an intricate web of under ground rivers and caves. This makes for some of the best snorkeling,
scuba diving
and beach walking in the world. There are also a number
archaeological sites
to visit all along the coast – one of the most famous being
Tulum
. What really sets this part of the world apart are the Mayan people and their history.