Hotel Staff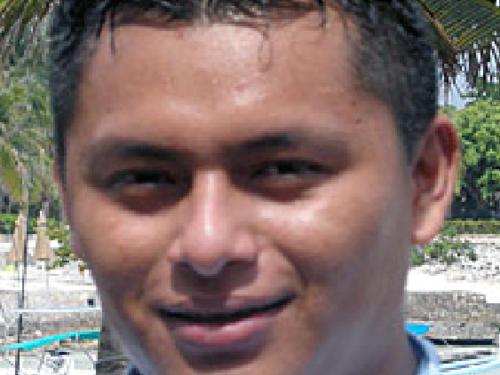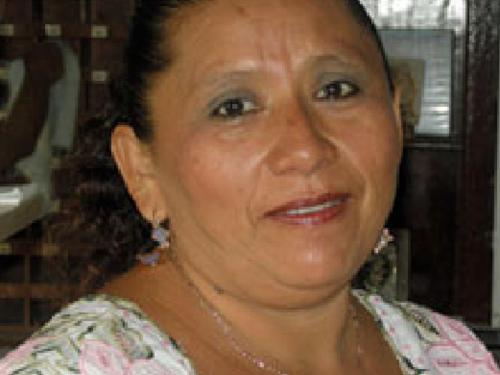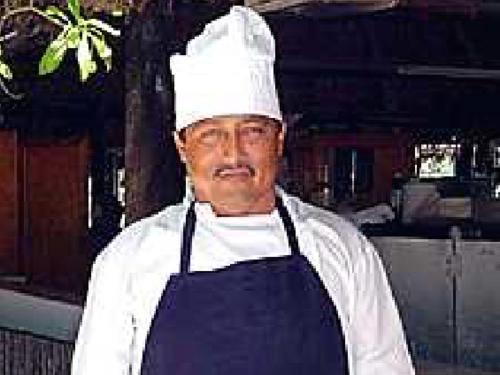 Antonio W. Beh Yam - Cook
Where is he from? Antonio is from Sotuta, a town of about 5,000 people in Yucatan State. It is about 3 hours from Akumal and was built in the 1850s.
How did he come here? Antonio first came to Paamul to work. His brother, Adrian worked for Lol-ha. Antonio joined his brother when David Wolfe went to Paamul to recruit him. This November 19th he will celebrate his 20th year at Lol-Ha
What was his first job here? He has always worked in the Kitchen.
What is his fondest memory? He remembers many years ago when there was a small fire in the kitchen. David was putting it out when another staff member came running in with a fire extinguisher and didn't see David and covered him in foam.
Something most people don't know about him? He plays left field on the Chemuyil baseball team. His specialty is the shrimp bisque soup.
Antonio is married. His wife and youngest son, who is 10 live in Sotuta, where he visits them every month. His oldest daughter, 22 and son 20 both live in Merida where they are studying.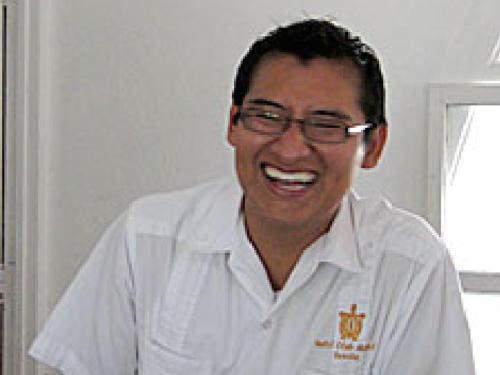 Bart - Front Desk
Where is he from?
Bart is from Merida which is about 3 hours from Akumal. He is the youngest of 5 children. He has 2 brothers and 2 sisters. They all still live in Merida.
How long has Bart worked at HAC?
Bart started with HAC in 2005. He worked as a cashier at the snack bar for three months before changing jobs to front desk receptionist.
What brought Bart to Akumal?
Four years ago, Bart traveled the Riviera Maya and he loved Akumal because it was on the beach and it was a quiet place. When he was looking for a job later he remembered Akumal and returned to find employment.
Special memory-
Bart likes to snorkel. Some of his special memories are when he is snorkeling and he sees all the turtles.
What does Bart like to do when he is off?
Some of Bart's hobbies are to read books, watch old movies, going to Playa del Carmen with friends to watch movies at the cinema, and snorkeling. Bart also likes to travel.
A goal of Bart's-
Bart would like to learn another language, such as French.
What does he like most about working at HAC?
Bart enjoys meeting new people. He likes to get to know them and learn about their country. Bart enjoys being able to talk to the guests about different experiences there are to enjoy in this area. He says he wants to help the guesst to have a better vacation.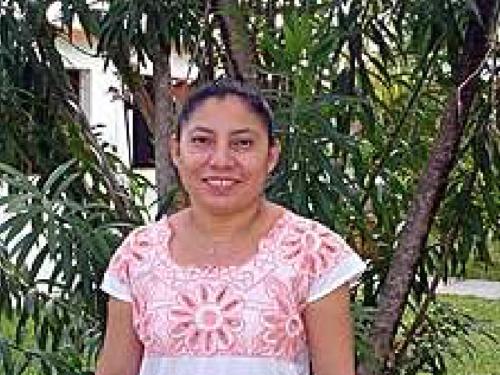 Carmenita Pech Pech - Housekeeper
Where is she from?
Kantunil, Yucatan. In September 2005 she will celebrate 19 years at Hotel Akumal Caribe.
How did she end up in Akumal?
Her father was a baker at another hotel and he brought the family here to live. She remembers living here when their home was near the beach. When they created Chemuyil her family moved there. She has always worked at Hotel Akumal Caribe as a maid. She now lives with her brother. Her family has returned to Kantunil and she visits them when she is not busy with her church obligations or work.
What is her fondest memory?
Judy Withington, she says with a smile. She explained Judy comes almost every year and she has always been very nice and kind, brings presents with her and always requests Carmenita as her maid. Judy did not come in February 2005 and she was really missed.
Something people don't know about her?
She is in charge of her Catholic Church in Chemuyil. She helps with all the holiday preparations and is very close with the nuns. The most important thing is her religion, she wanted to go to the convent and become an nun but that was not possible. She is very dedicated to her church.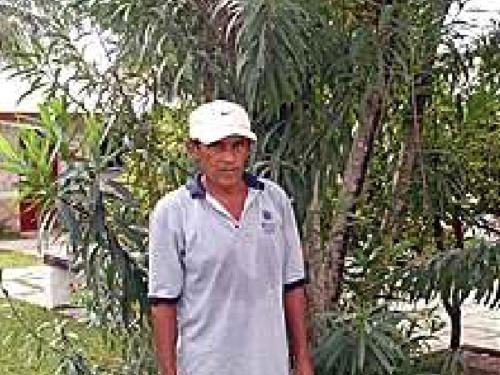 Clemente Cardenas Navarro - Gardener
Where is he from?
Kantunil, Yucatan. He has been here 16 years, working the entire time as a gardener.
What memory does he have of working at Hotel Akumal Caribe?
Hurricane Roxanne. He said he was sad to see all the plants that were damaged but the good news was his family in Chemuyil were safe. He said this is a very bad memory for him.Something people may not know about him?
Clemente is a serious, quiet man. He really enjoys being alone.
What does he do on his free time?
He spend his time with his wife of 30 years and their 5 children. All of his children live in Chemuyil. He also has a home in Kantunil and he visits it every 5 months. He likes gardening the most. He likes it here because it is quiet place where he can live a calm and peaceful life.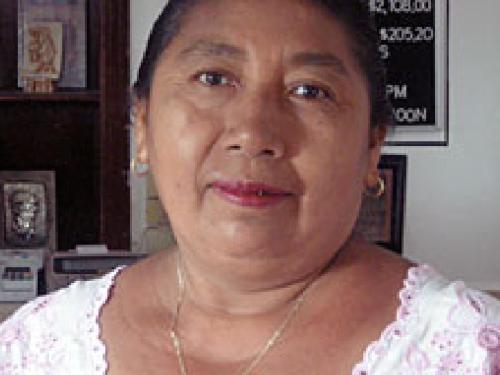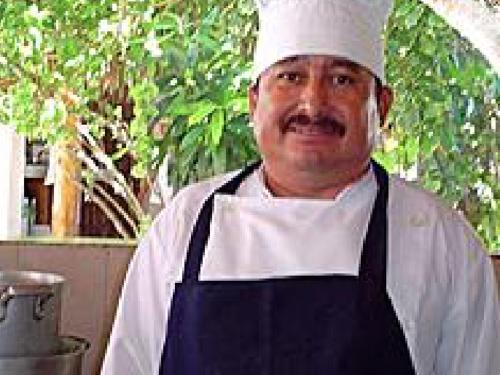 Florentino Garma Mezeta - Chef
Where is he from?
Florentino is from Sotuta, in the state of Yucatan about 3 hours from Akumal. Many of the HAC employees are from here. He has been at HAC for 17 years. When h first came to the Maya Riviera he worked in Cancun. His brother worked for HAC and convinced him to relocate. His first job was at the Super Chomak he was promoted to the snack bar as an assistant cook and now is is the Chef for fine dining. He says his specialty is steaks.
Special Memory
He has very fond memories of being in charge of the classic pasta bar. He said when guests return and ask him to fix something for them in his special way it makes him feel good. He enjoys the recognition of a job well done and the opportunity to interact with the guests.
Something most people don't know about him
He is the short stop on the Chemuyil baseball team. 5 of the 17 team members are from Lol Ha.
What does he like to do?
He likes helping others improve their homes, fishing, playing sports and keeping busy in general. He also enjoys spending time with his family 2 girls and a boy.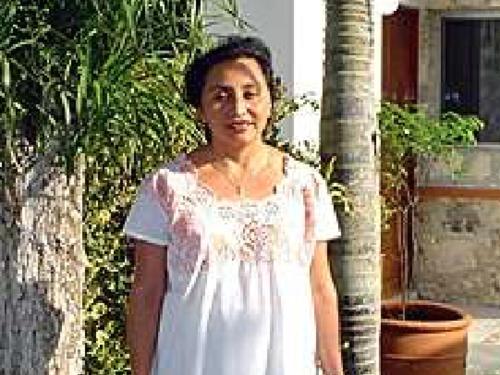 Gloria May Aguilar - Housekeeper
Where is she from?
Gloria grew up in Sotuta with her 6 brothers and 6 sisters. 4 of them now live in Chemuyil. She has 30 nieces and nephews, 5 of which live here. She and her husband were unable to have any children so she enjoys spending time with her nieces and nephews.
How long has she been at Hotel Akumal Caribe?
She has worked here for 15 years. She worked 2-3 years in the laundry and then became a maid at the hotel. She is now Laura's maid and works at her home and the Canon House.
What does she enjoy the most about her job?
She really enjoys all of Laura's animals. She also enjoys when she sees familiar guests return.
What does she like to do when she isn't working?
She likes to go home and watch TV but what she really likes to do is go to the Disco in Tulum and dance with her husband.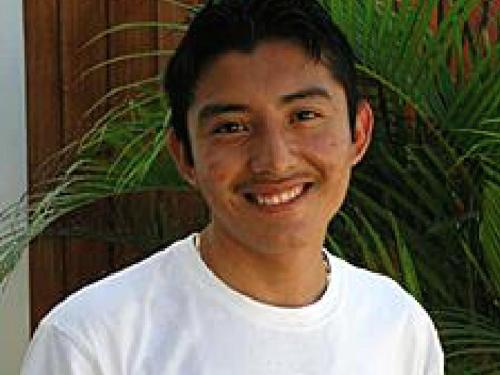 Jesus - Waiter
Where is he from?
Jesus is from Merida. His parents, one brother, and three sisters still live in Merida.
How long has he worked at HAC?
Jesus has worked at HAC for four months.
What brought him to Akumal?
Jesus came to Akumal on vacation. After returning home, he eventually came back and applied for a job.
Special memory
Jesus remembers his 18th birthday because he got his first car. It was a Tsuru.
Something people might not know about Jesus
Jesus is going to be starting medical school soon. His goal is to be a cosmetic surgeon one day.
What does he enjoy most about working at HAC?
Jesus likes the people he works with and getting to know them.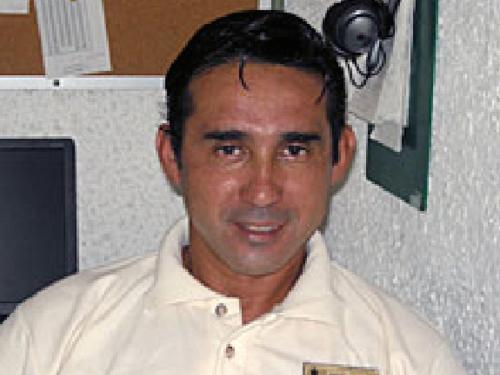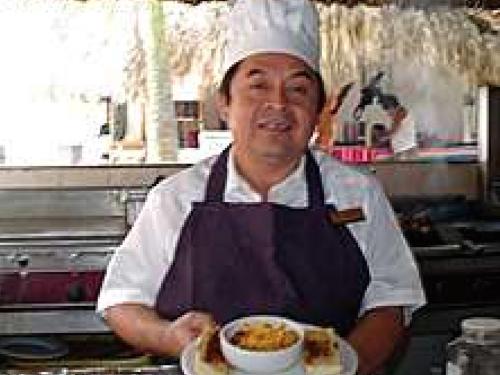 Julio Aká Aviles - Cook
How did he become a Chef?
He came here 17 years ago from Kantunil to improve his skills and have a better life. It was just after hurricane Gilbert when he met David and was hired to help clean up the mess. He worked doing that for about 2 weeks, he worked another 2 weeks with the sewer/water truck. He then worked in storage for about 1 ½ years. At this point he approached Laura Bush and asked her if he could be responsible for taking care of the original dining room. She agreed and he did this for about 2 years. He went back to Laura Bush and discussed wanting more responsibility. They decided he would become the dishwasher in the Snack Bar. At that time the kitchen was located where the dining area is. It had a small sink and there were lots of dishes to do. In addition, part of his job was to peel and cut the potatoes. He never complained and he saw this as an opportunity because from where he worked he could watch and learn a lot. Now there are 2 people doing what he used to do and they have all the modern necessities – he says he just laughs when they complain.
The head Chef, "El Tio", went to Laura when another cook left and recommended Julio for the job. El Tio was the head chef for 20 years, El Tio's son, Pedro is now the General Manager.
What was it like back then?
When he first moved here he lived over near where the Casitas are now. He worked here for about a year before he moved his entire family here. They lived in the small pueblo near the beach. The school was where the Hekab Be Biblioteca is now, and his daughter went to elementary school there. After about 4 years of living here in Akumal, Chemuyil was being built, it was an opportunity for many to own their own homes. He said the houses were too expensive for him to purchase outright but because of his work history and recommendations he was able to take out a loan and build his very own home. He says that was the reward for his hard work and dedication. Julio claims that he is motivated to work hard because of his responsibility to his family.
What about his family?
Julio has been married now for 30 years and has 2 sons and two daughters. He grew up with his parents in the country and he saw how hard it was for them and he decided that he wanted to give more opportunity to his children. His children were always he and his wife's first priority. He said they sacrificed a lot so his wife could stay at home and raise the children. They can now see the rewards. He is very proud of his children, they have good jobs and they have learned to speak English. One of his daughters is married and has moved back to Kantanil, she has 2 grandsons. She and her husband own and operate a bakery there.
What does he enjoy doing?
He spends his time off with his family Julio begins every morning by reading the bible. He says that makes him aware of all that is good and allows him to start each day in a clear and positive way. He says he wants to be good and prepared for when things go wrong in life so he will do the right thing. This attitude is evident in the fact that Julio is one of those workers who can fill in where needed, does a lot of things well, is flexible and has gained the respect of his co-workers.
Interviewed in February 2005.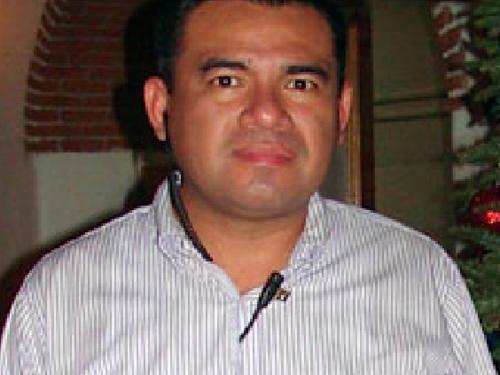 Walter Balan Canul -Food & Beverage Manager that will oversee the entire operation to encompass purchasing, inventory control, cost control, training and supervision.
Originally from Tabasco, he grew up in Yucatan. His professional experience started out in Cancun at Hotel Bahia Maya and later on to the Riviera Maya at the Gran Flamenco Xcaret. After that he was in Canada for 5 years working in two Restaurants in Toronto. He returned to Cancun in 2009 to work in Azul Sensatori, Dreams Riviera and Azul Fives before coming to Lolha Restaurant.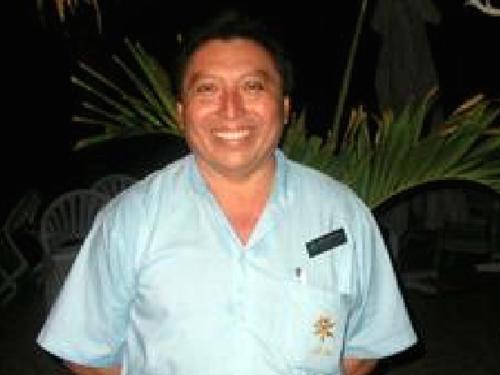 Lazaro Colli Sanchez - Head Waiter
Where is he from? X-Yatil, west of Quintana Roo, about a 3 hour drive. It is a small town with only about 350 people.
What brought him to Akumal? He came to meet people and to improve his English. Lazaro said he chose a tranquil place to learn in a relaxed atmosphere. He smiles when he says he was told he would be a bus boy and he had no idea what that meant. He said at that time, Sra. Laura was the cook and David drove sometimes 2 times a day to Cancun for supplies. These trips would take up his entire day.
How long has he been here? 17 years. His first job was as a bus boy. His family now lives in Chemuyil; he has 2 boys Rafael, 16 and Oscar 7 and 2 girls Liliana 12 and Manuela 15.
Special Memories Lazaro has survived 2 hurricanes and a fire. Hurricane Gilbert in 1988 was a time he will never forget. He said everyone pitched in and helped and in 3-4 days all was cleaned up and working and that they were the only place between Tulum and Playa del Carmen that was open.
Something People don't know about Lazaro - He used to play basketball in his home town and he still play in Chemuyil. He is the best at 3 point shots.
Favorite thing to do - Play sports with his kids.
Funny Experience - Everyone that knows Lazaro knows he is always smiling and has a great sense of humor so I had to ask him what is the funniest thing that has happened at work. With a huge smile and gleam in his eye he said the people and the dogs. How certain people would spend time with the dogs and feed them – even order food just for them. This writer is guilty as charged. One of the most popular dogs, Mulato is now at his final resting spot on Hotel Akumal Caribe's property, if you walk in the garden area you can see his marker.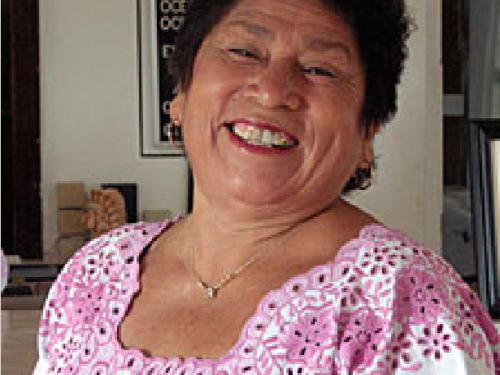 Leydi Orderez Chan - Housekeeper
Where is she from?
Yoxonoth, Yucantan. She lives in Chemuyil and has been here for about 25 years.
What is her fondest memory?
She says some of her best memories are of Judy Withington because she always takes the time to speak to her, is very loving and affectionate and she hugs everyone. She also remembers Jeff who is famous around here because he brings lots of chocolate but she is sad to say Jeff has not been here for 2 years. Leydi says it is very sad when people who come regularly stop coming.
What does she do on her spare time?
Leydi spends lots of time with her 8 grandchildren. They all live in Chemuyil.
What is something most people don't know about her?
She also loves to go to parties and to listen music and dance.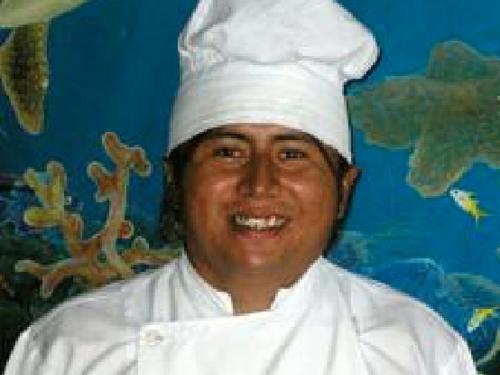 Luis - Kitchen
Where is he from?
Luis is from Sotuta, Yucatan. His wife, Nancy, and his 1 ½ year old son Luis Angel live in Chemuyil now.
How long has he worked at HAC?
Luis started as a dishwasher 12 years ago. Shortly after starting he was promoted to the kitchen. He still works in the kitchen as the grill person. His favorite foods to cook on the grill are lobster and shrimp.
What brought him to Akumal?
He finished high school in Sotuta and realized there were no jobs there. His father who is Adrian, the kitchen chef, was working here already so he came to Akumal to start work here.
Special memory-
Luis says he loves all the festivities and the ambience during the holiday season. He says everybody is so happy during that time.
Something people don't know about Luis-
He likes to work and learn about electricity. He was interested in circuits and how electricity works when he was in high school but he was unable to attend college for electrical engineering but he still has an interest in it.
What does Luis like most about working at HAC?
Luis loves to learn and prepare new dishes that are being added to the Lol-ha menu.
What does Luis do during his time off?
He spends time with his family and he likes to play futbol (soccer) and baseball.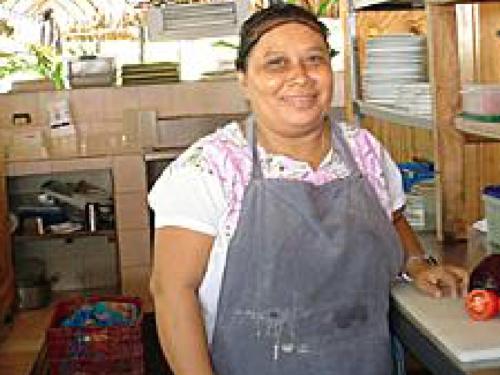 Martina Martina - Cook
Where is Martina from?
She is from Tixmeua in the state of Yucatan. It is a city with about 2,000 people. It is an 8 hour bus ride but if she takes the combio she can be there in about 5 hours. She has 3 daughters and 4 grandchildren. They all live in Chemuyil. Her oldest daughter is 24 and her youngest is 10.
Something most people don't know about her?
The wife of Porfirio, the artist whose work you will see in many rooms at HAC, told her about the job at HAC. She specializes in Yucatan cooking but prior to working at HAC she had only cooked for friends and family. This was her first job ever. Martina has been at Lol-Ha for 3 years and is a single mother. She said the schedule was the biggest adjustment but that the cooking is the same and she wasn't nervous to cook for others. However she said she does enjoy the modern technology.
What does she enjoy doing?
She likes to sew and embroider. She also enjoys cooking for her Catholic church. Martina has done mission work, traveling to other villages, as well as, cooking for missionaries that come to her town. Every Sept 15 – 30 she travels back to her home town to enjoy the festival with her parents.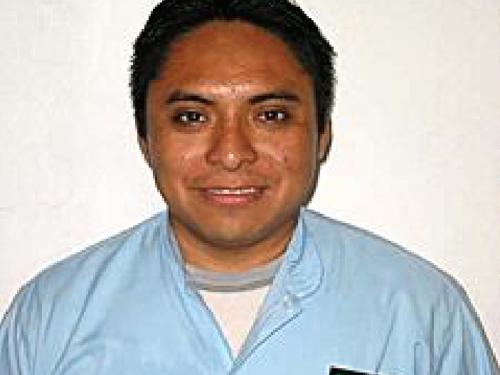 Sergio - Waiter
Where is he from?
Sergio is from X-Yatil, Quintana Roo. His hometown is approximately two hours from Akumal towards Chetumal. His wife and daughter (Janette Estebana, 2 ½ years) live in his hometown still.
How long has he worked at HAC?
Sergio has been serving at Lol-ha restaurant for four years.
What brought Sergio to Akumal?
Sergio's brother worked at HAC previously and he came back to Akumal with him one time for employment.
Special memory-
Sergio remembers all the Christmas parties for the staff. He said that there is always lots of food, dancing, and everyone gets along.
Something people don't know about Sergio-
Sergio owns a little ranch in his hometown where he raises cows, pigs, and lamb.
What does he like most about working at HAC?
He enjoys working with his friends. He also enjoys getting to know the customers and the local residents.
What does he do when he is off?
Sergio returns home to be with his family and work on his ranch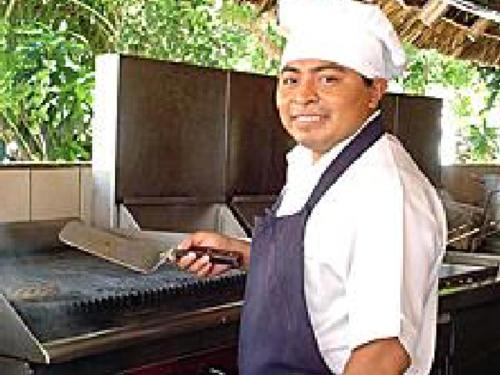 Teofilo Noh Noh - Cook
Where is he from?
He is from Kaua, Yucatan which is near Chichen Itza; about an hour from Akumal on the Coba Highway. There are approximately 500 people who live there. His uncle is an owner of the land where Dos Ojos is located. Toefilo worked for his uncle for about 6 years. He also worked security at Chemuyil when it was under construction,
When asked how long he had been at HAC he replied "desde que se me cojo el ouibligo" - translated means "since my belly button fell off." He has worked for HAC for 10 years. He stared at Super Chomak, cleaning, stocking and pricing merchandise; he did that for 3 years then he was a dishwasher for 1 year. He is now the assistant chef, a job he has held for 6 years.
Special memory
With out hesitation he said "Roxanne." When the hurricane came he stayed on the property in one of the rooms. He said he could feel the walls moving. For 5 days everyone prepared for Roxanne's arrival, waiting anxiously. When she finally came he was asleep. He could not believe his eyes when he woke up. Roofs were off the buildings, windows were out, and the storm surge reached all the way to the cancha, across from Super Chomak. He said they nearly ran out of food and it was difficult to feed everyone. Chomak was the only market open from Playa del Carmen to Tulum.
Something most people don't know about him.
His older sister and parents still live in the village he is from. He said they are a very typical Mayan family, they still live in the same way that they did for hundreds of years. They speak only Mayan and dress in typical Mayan outfits. They still farm in the traditional way, they are self sustaining on the farm and the jungle. He is married to a very special woman, he shared with us that she is now teaching him to read and write. At the time of this interview his wife was pregnant.
What does he live to do?
He loves to paint. He paints Maya ruins and beach scenes. He uses crayons and kids paints cause it is the only thing he can afford.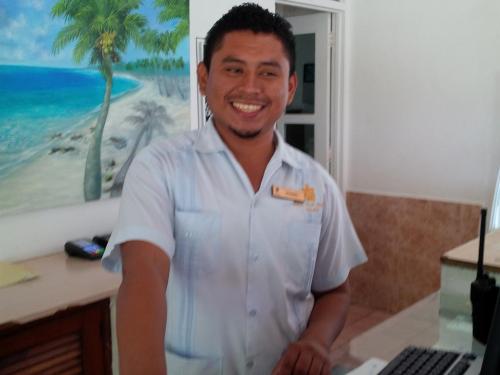 Manuel Chan Trujeque
Where is he from?
Manuel is from Sudzal, a small place in Yucatán state, about four hours from Akumal. He has three brothers and one sister. His parents and brothers all still live in Sudzal.
How long has Manuel worked at HAC?
Manuel started with HOTEL AKUMAL CARIBE in 2007. He was responsible for the Laundry for a year and a half before changing jobs to the front desk area. He worked as a bellboy for one year before getting his current job; now he is working in Reception.
What brought Manuel to Akumal?
In 2004 Manuel had the opportunity to come to Akumal to get a job, but he didn't accept it. In July 2007 he had another opportunity to come to Akumal to get a job and to make real his dreams. He accepted this job because his cousins were working in the same place. Manuel agreed to come to HAC to work only for a month, but he changed his mind because he loved Akumal and his job.
Special memory
Here's where Manuel met his wife and began a family.
What does Manuel like to do on his time off?
Manuel likes to spend every single minute with his daughter, son and wife, and take his family out for a walk in Playa del Carmen.
A goal of Manuel's
Be the best in what he does. Learn another language such as French or Chinese.
What does he like most about working at HAC?
Manuel enjoys meeting new people, but mostly he likes it because his job, he says, is like a school for him. He enjoys helping the guests have better vacations.