Akumal Ecological Association (CEA)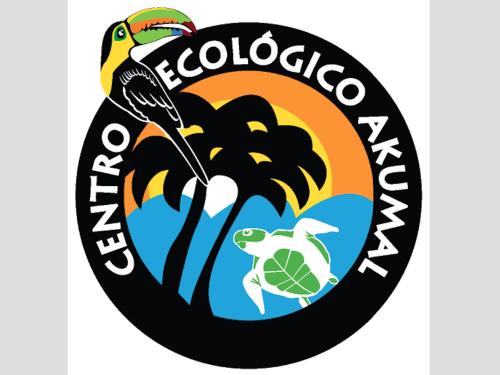 Centro Ecológico Akumal (CEA) was founded in 1993. Our mission is to help create a model for sustainable tourism development in the Mexican Caribbean, through research, education and outreach. We accomplish our mission thanks to the support from people who share their time or money for our project goals.
For individual short videos from each of our program heads click on:
https://www.youtube.com/channel/UCxkMY_fWeLziqYy8vqONKmA
Programs
Marine and Coastal Ecosystems
Works to research monitor and improve management of Akumal's Bays and coral reef.
Sea Turtles
Patrols Akumal's beaches to protect nesting female turtles, turtle nests, and hatchlings.
Water Quality
Works to understand and reduce pollution of our watershed by addressing waste water issues.
Environmental Education and Communication
Supports ongoing educational programs for visitors and the local community to understand the fragility of our ecosystems and to improve environmental management.
How can you help protect sea turtles?
Avoid making noise from 11pm - 5am.
eep the beaches dark—do not use flashlights
Do not build bonfires or use fireworks
Do not leave trash on the beach or in the ocean; pick up trash you find even if it's not yours.
If you see a turtle:
Keep your distance
Do not impede her nesting process by blocking her path, getting too close or taking flash photography. These actions can startle and frighten a turtle.
If you see hatchlings:
Turn off lights (hatchlings got towards the light).
Do not touch or handle the hatchlings in anyway. Please remember it is a federal offence to handle sea turtles without proper authorization.
Notify Centro Ecologico Akumal of any observations or concerns: 984-875-9095 / tortugas1@ceakumal.org or contact security or reception to help in relaying immediate concerns.
Please remember that handling sea turtles without the proper authorization is a federal offense.
How can you help protect coral reefs and marine life?
Use biodegradable sunblock.
Keep a 2 mt. distance from corals and other marine species.
Swim near marine creatures and corals, not over them. You reduce the risk of kicking corals and allow sea turtles to rise to the water's surface to breathe.
Keep your distance while any sea life is feeding.
Harassing, touching or grabbing marine creatures is not allowed, your safety could be at risk.
Touching corals may kill them.
Do not touch, walk or stand on corals. Use life jackets.
Akumal Bay is part of a fish refuge. Fishing within the bays and lagoons is illegal.
Do not remove anything dead or alive from the sea, it is a federal offense.
Snorkel Tips
For you and your family's safety, always use a lifejacket.
Ask the Dive Center for information to become familiar with Akumal´s bays and currents.
If using a guide, ensure that they are certified, water rescue/first aid qualified, insured and have proper business licence to operate in Akumal. We recommend using the Dive Center as it meets the above standards.
Breathe slowly, deeply and stay relaxed. Your buoyancy will be better and you will become less tired.
Keep your arms near your body; the lifejacket will keep you at the surface. Maintain a slow and paused kicking motion to keep you floating in the correct horizontal position.
Never cross the reef barrier.
Be careful crossing the navigation channels.
Pay attention to not kick corals or the sea floor with your fins.
Please do not feed marine creatures.
Marine Protected Area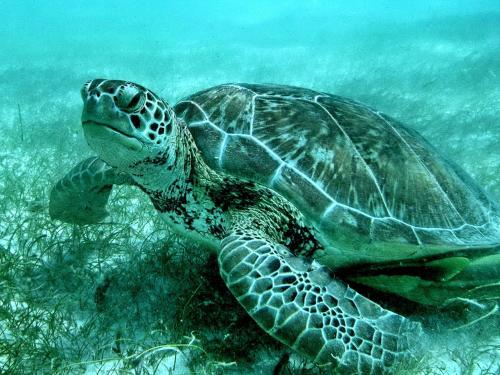 Refuge for Protected Species
In March 2015, Akumal Bay and the surrounding areas were a declared a Refuge for Protected Marine species. It includes three species of turtles, four species of mangroves, three species of seagrass and four species of corals.
The authorities are still in the process of creating a management plan for the use of Akumal Bay and currently there are not set or clear rules for independent users. The only regulations that are in place are for the commercial users (snorkel tours) who operate under a government-permit.
Eco Notes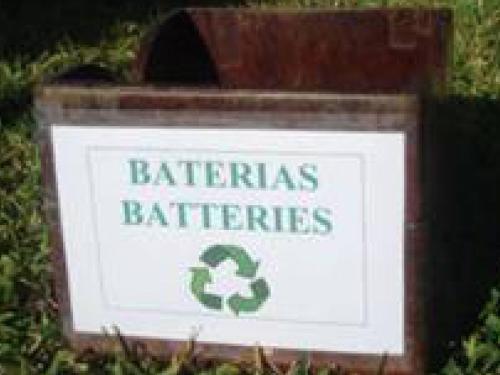 Notice to our guests:
Please do not leave any plastic, glass, Styrofoam or any other debris on our beautiful beaches! We appreciate you using biodegradable suntan lotion which can be purchased at Super Chomak.
During turtle season, May through November, please do not shine bright lights on the beach, make loud noises, or otherwise disturb their nesting sites. You can go to the Akumal ecological center to take part in organized turtle walks and an informative talk.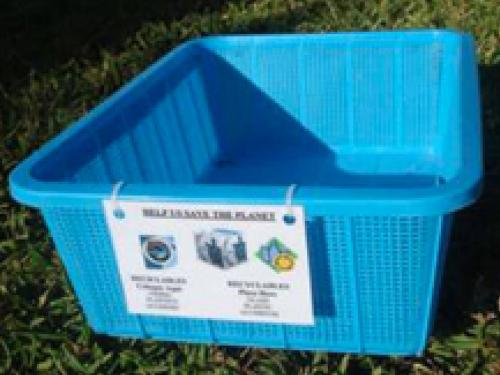 You will find a basket like the one below in each room for recycling plastic, glass and aluminum. For used batteries, we have a container at the Front Desk. Please help us with this program. The Ecological Center is collecting these items so we can all help REDUCE and REUSE! Whenever possible we would like for you to rinse out the containers before putting them in the basket!
We thank you in advance !
Sea Turtle Protection, Conservation and Research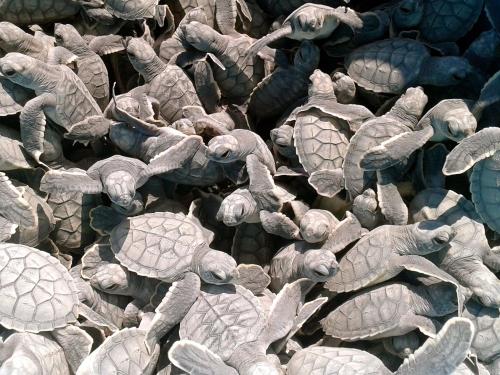 Loggerhead Turtle
There are seven species of sea turtles in the world, all of which are threatened or endangered. Mexico is home to six of these species; four can be seen off the coast of Quintana Roo and three can be found regularly around Akumal. Local beaches are nesting habitat for two turtle species: Loggerhead (Caretta caretta) and Green (Chelonia mydas).
Loggerhead turtles can be recognized easily by the relatively large size of the head, a thick carapace and a reddish-brown coloration of the shell and skin. Adults weigh between 100 and 200 kg and are up to 1.15 m long. Nesting season is from May to August. Their diet consists mainly of crustaceans such as crabs, snails and lobsters.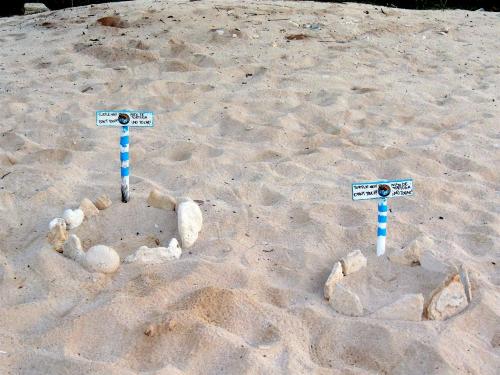 Green Turtle
The Green turtle is the largest sea turtle with a rigid shell and is the second-largest turtle (after the Leatherback) of the seven species. Adults can weigh up to 250 kg and measure up to 1.2 m long. Nesting season is from June to September. Their diet consists primarily of seagrass and algae.
Program Activities
Since 1994 Centro Ecológico Akumal (CEA), with a permit issued by the Mexican Wildlife Agency, has been working to protect, conserve and research the sea turtles in Akumal. The principal goal of the program is to contribute to the recovery of sea turtle populations, through the operation of the Sea Turtle Camp "Akumal."
These activities are carried out in the federal marine zone of the beach, which cover the area from Yal ku at the north end of Akumal, to the Oasis Hotel Tulum in the south, with a total of 4.5 km of beaches. These are divided into four main nesting beaches: South Akumal (AS), Jade Bay (PT), Akumal Bay (BA) and Half Moon Bay (BML).
During nesting season, from May to September, CEA staff and volunteers patrol the beaches from 21:00 to 05:00 hrs. in order to observe and protect nesting females, nests and hatchlings. The work involves data collection (size, scars, tag numbers), tagging for identification, nest marking (in situ and/or relocated), nest cleaning, and hatchling release. Data collected during monitoring helps us to estimate the hatching and survival rate, size rate frequency, behavior, distribution, abundance, nesting beach preferences, and intervals between nesting.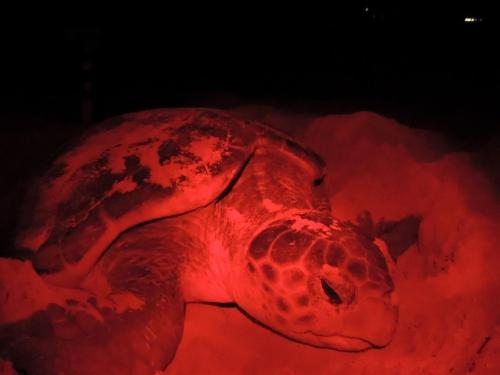 Turtle Walks
During nesting season, CEA provides guided night walks to observe nesting females and hatchlings, in order to raise awareness and educate visitors about the importance of respecting the sea turtles and their environment. Before the walk an informative talk is given. CEA invites you to be part of conservation and protection activities carried out on the nesting beaches. You can sign up for the "Turtle walk" at CEA's office; walks are limited to 10 people per night.
You can help by
• Changing lights facing beach areas to amber or red-colored bulbs; change their direction so that they light from the edge of your property to the building, not out to the beach. The lights disorient the turtles.
• Not leaving objects (beach chairs, floats, kayaks, etc.) on the beach, as they may obstruct the female turtle's path as she searches for a place to lay her eggs.
• Not making excessive noise from 21:00 to 05:00 hrs. during the nesting season (May to September).
• Being a silent observer—if you find a turtle on the beach, stay quiet, do not take pictures with flash, do not smoke, and please follow the rules provided by Centro Ecológico Akumal staff and volunteers.